London is one of the top 3 most Coeliac friendly cities in the world - here are The Best Gluten Free Restaurants - Gluten free London guide
Just before diving into the list of 29 gluten-free restaurants in London, it's important to say the obvious: the data was collected based on information collected, but things can always change, so it's important to ask and make sure when you arrive at one of the restaurants that the dish you order is indeed gluten-free, because in the end, the responsibility is yours and yours. The restaurant owners. Have a nice vacation
which gluten free friendly hotel should you book? Here are the some recommendations
Before you start planning on which gluten free dish you would like to start with once you arrive to London, you should definitely know that London has some of the most gluten free friendly hotels that can make your stay more than perfect.
One aldwych hotel, located in Covent Garden, in the heart of London, is perhaps considered one of the most celiac-friendly hotels. The hotel's chef, Dominic Teague, made sure that celiacs who frequent the indigo restaurant belonging to the hotel can enjoy not only a rich gluten-free breakfast (toasts, Belgian waffles, muffins, etc.) but also a lunch and dinner menu and even an afternoon tea menu (see picture wow) gluten-free ( and without milk).
You can get an impression of the hotel here in the link.
Another celiac-friendly hotel is Rubens at the Palace, located in the heart of the Kingdom, near King Charles's Palace, Buckingham Palace (and near the new Victoria train station). Also at the Rubens Hotel you can enjoy not only a breakfast with a variety of gluten-free pastries but also a tea time with a dedicated gluten-free menu that includes fresh breads, tarts, cheesecakes. Each of the hotel's restaurants has a high level of awareness and an impressive range of gluten-free dishes even for the most sensitive (both lactose and vegans).
You can get an impression of the hotel here in the link.
Last and excellent recommendation is the St. Ermin's Hotel. located close to some of London most wanted attractions including Westminster, the King's Palace and is also a few meters from a subway station which is always great. Also in this hotel you will be offered a variety of pastries at breakfast, afternoon tea with fresh gluten-free pastries.
You can get an impression of the hotel here in the link.
Opening the gluten free London list is 'Honest Burgers' – a British hamburger chain with 36 branches that, beyond the great quality of the hamburgers themselves, they are also very aware of the issue of allergens and their menu is clearly and wonderfully marked. Most of the products are available in 31 of the chain's branches.
All the hamburgers in the network are gluten-free and you can find in the branches next to beef hamburgers, also chicken hamburgers, pork hamburgers as well as vegan and vegetarian hamburgers.
Most of the toppings that are served alongside the hamburgers are also gluten-free: the salted potatoes, the chicken wings, the onion rings, the sauces and the salads.
Burger prices are value for money. All hamburgers are served with gluten free fries. 
Address of one of my favourite branch: 33 Southampton St (Covent garden)
Opening hours: Most branches open at 11:30 am and closes at 11:00 pm. On Sundays, most branches closes at 22:00.
The good news is that all of Otter Waffle's perfect waffles are gluten-free. Some of the dishes are also vegan.
Otter Waffle's menu is simply a dream and everyone will find what they like: sweet or salty, big or small, waffles with chicken or waffles with ice cream and sweet syrups, waffles for breakfast or waffles that are a perfect lunch.
Address: 119 Dulwich Rd
Hours of operation: daily 8:00-16:00. on Tuesday – closed.
Attractions in the area: Brockwell Park
3. Paladar - latin kitchen
Palader is a 100 percent gluten-free restaurant based on Central and South American cuisine, Latin cuisine. The restaurant, along with great dishes, also has a rich and great cocktail menu that goes great with Palader's happy food.
Among the dishes on Palader's menu: great ceviche, plantain-based dishes from the root of the yucca plant, indulgent empanadas, guacamole and sriracha sauces, bass fish fillet, various meat dishes such as roasted duck breast, seared chicken liver and more.
Address: 4-5 London Rd.
Opening hours: Tuesday to Friday 12:00-14:45 and again from 17:00 to 21:45. Monday: 17:00-21:00. Sunday and Monday: 12:30-20:00. on Monday until 10:00 p.m
Attractions near by: The Imperial War Museum
4. Libby's - No gluten and no Sugar
Libby's place (which has already become two) is a paradise for celiacs but also for those who want to enjoy pastries and sweets without added sugar.
Behind the magical place is an owner who, at the age of 40, discovered that she was sensitive to gluten and removed gluten and sugar from her menu. In her place, named after her home, Libby, she seeks to serve (through the chef of the place, Kari) the best things she knows in versions that do not fall short in taste and texture from products with gluten and sugar.
Among the pastries you will find there: great croissants, breads, pecan pie, cheesecakes, cookies, cakes, bagels, personal pizzas, cupcakes, eclairs, tarts, danishes and more.
Address: 61 Ledbury Rd (Notting Hill) and also at 41 Englands Lane (Belsize Park)
Opening hours: daily 8:00-17:00. on Saturday from 9:00. In the second – closed
Attractions Near by: Hyde Park and Ladbroke Square Garden
At Andina restaurant you can enjoy dishes that are all 100 percent gluten-free and with intense flavors that come from the Andes.
On Saturdays and Sundays from 12:00 you can enjoy unlimited brunch meals on the spot (reservations must be made in advance). You can also enjoy during the week a set menu of 9 indulgent dishes for a great price.
In Andina's menu you can find a wide variety of great ceviche dishes, great tamale dishes (vegan or with meat), grilled octopus, corn cake, a variety of desserts, cocktails and more.
Address: 60-62 Commercial St,
Opening hours: daily 12:00-15:00, 17:00-21:30. on weekends until 10:30 p.m.
Attractions near by: Whitechapels
Behind Vida bakery are Dani, a celiac and vegan, and her partner Vin, who for several years toyed with the idea of opening such a bakery that is completely gluten-free and vegan. After establishing a sweets pop-up that was a great success, the two opened this place together with investors in 2018 and the rest is history.
At Vida Bakery you can find cupcakes in 12 different flavors, a cake in the colors of the rainbow alongside other stunning cakes, huge cookies and everything is photographed so well for social media that it's just perfect.
The prices of the cakes are around 4.5 pounds, the cupcakes around 3 pounds and the giant cookies around 2.5 pounds and the prices of the giant brownies: 3.8 pounds.
Address: 139 Brick Ln, Shoreditch.
Hours of operation: Tue-Fri 11:00-19:00, Sat+Sun 10:00-18:00, Mon: 13:00-19:00.
Attractions near by: the trendy Shoreditch neighborhood
Behind the restaurant "Niche", which is slightly more prestigious than all the food chains mentioned here in the list of "gluten-free restaurants in London", are friends Mark Ward who were supposed to open a normal bistro restaurant in 2013, but the fact that Mark has celiac disease made the two decide to make a change and open the first restaurant in London which received approval from the British Celiac Association that it is 100 percent gluten-free.
So what can you find at Niche restaurant? Parmesan and cheddar donuts, quiche, fried chicken basket, the famous chicken parmesan, mushroom gnocchi, halloumi salad, Kobe beef salad, smoked hamburger. Toppings like mac and cheese, baked potatoes with rosemary, desserts like ginger and chocolate brownie, pecan pie, peach cheesecake, berry crumble and more.
Address: 197-199 Rosebery Ave, Clerkenwell.
Opening hours: daily 17:00-21:30. Sunday 12:00-16:00 and Saturday also from 12:00-14:30.
Attractions near by: University of London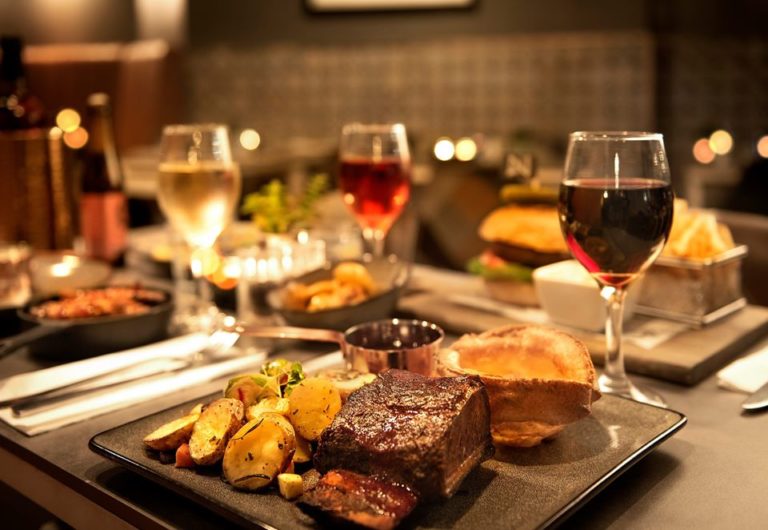 Indigo restaurant operates within the one aldwych hotel and is entirely gluten free and offers breakfast, lunch and dinner.
The chef, Dominic Teague, made sure to produce a balanced gluten-free menu, most of which are dairy-free, and among the dishes there you can find a breakfast menu that includes a chocolate and berry muffin, a gluten-free waffle, two poached eggs, bacon, beans, and more.
The hotel restaurant also offers the British flagship dish fish and chips and a luxurious dinner tasting menu including some drinks.
Address: 1 Aldwych
Hours of operation: most days of the week 6:30-10:30 for breakfast, 12:00-14:30 for lunch, 17:30-22:15 for dinner.
Attractions near by: Covent Garden, Waterloo Bridge
Cookies and Scream (a take on cookies and whipped cream), has been operating in North London for a decade, since 2010, and all of its products are gluten-, egg-, and milk-free (but contain soy and nuts for those of you who are allergic to them).
In this sweet shop, you will be able to find a variety of cookies, brownies, pies, donuts and also a type of coquilida. Most desserts are spoiled in a good way.
Address: 130 Holloway Rd, Highbury East
Opening hours: daily 12:00-20:00. Sunday from 11:00 and Saturday from 10:00.
Attractions near by: Jamie Oliver's cooking school
My old dutch or in a free translation from English: "My Dutch" is a London chain with three branches that also has pancakes that are both gluten-free and vegan (you have to check with the sellers).
The gluten-free version of the pancake that you will find online is made from a mixture of rice flour, tapioca, buckwheat and potato.
You can order the gluten-free pancake with added chocolate or berries. Also on the menu of the place is lettuce and avocado salad with olive oil, but hey, that's not what we came all the way for.
The three branches are in the neighborhoods of Chelsea, Holborn and Kensington.
Address: 131-132 High Holborn
Opening hours: daily 11:30-19:00. on Saturday from 10:00. Sunday until 18:00
Attractions near by: Battersea Park, Ranelagh Gardens, Saatchi Gallery, National Army Museum
Behind the high-quality fast food chain Leon, which has 4 branches in London alone, are three entrepreneurs who decided to produce fast food that would be of higher quality and tastier than what they were used to eating in their youth. In the chain's menu, they combined Mediterranean flavors.
So much for the beautiful words and now for the menu: stunning hash browns, meatballs (without meat) on a bed of seeds with Moroccan seasoning, fries (with or without cheese), chicken korma dish with herbs and carrots, a box of chicken satay, hummus, shakshuka without eggs, Vegan and gluten-free, green shake and halloumi cheese, a breakfast box with halloumi, eggs and beans, a bowl of sausages and beans, a bowl of salmon and avocado and more.
The Strand branch is located at: 73-76 Strand.
Hours of operation: Most branches operate from 7:00 a.m. to 10:00 p.m. at night. Sunday until 20:00.
Other attractions near by: Waterloo Bridge, Adelphi Theater, Savoy Theater
In the three Guasacaca branches in London, you will be able to find a number of gluten-free dishes, first of all, Arpa, that Mongolian pocket pita made from white corn flour.
Also on the menu of the chain's branches, chips made from yuca (perfect), the same root from which tapioca is also produced, cheese fingers.
The Arpa dishes are served with four types of fillings: beef, chicken, black beans, yucca and jalapinho (vegetarian) and also a version with white meat. 
Address: 42 Newington Causeway.
Hours of operation: The hours of operation at the three branches are very different and you can find updates here on their website. The Hammersmith Lyric Square Market branch, for example, is only open on Fridays at lunchtime. The other two branches operate 7 days a week.
Attractions near by: Ministry of Sound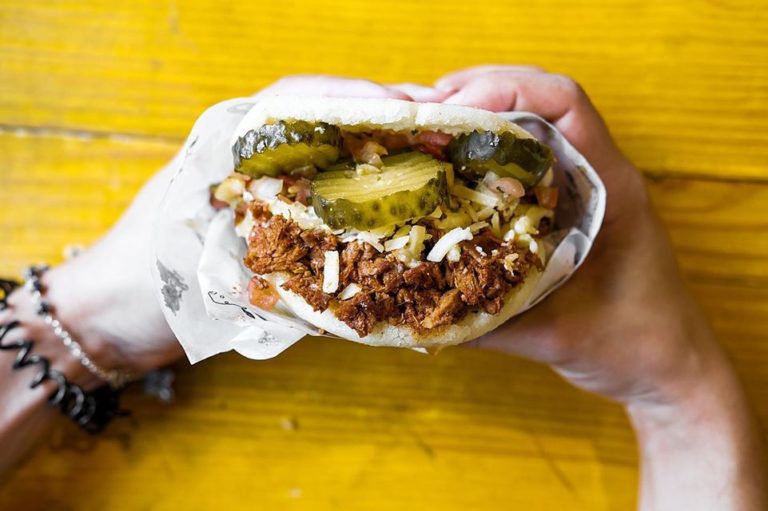 Rossopomodoro chain has four branches in London and serves mainly Neapolitan pizzas and pastas.
The chain's branches are also very aware of the gluten-free issue, like most restaurants in London, and they also serve a dedicated gluten-free menu if you just ask.
In this menu you will find, among other things, a caprese salad made from buffalo milk, pasta bolognese, pasta with basil, a variety of pizzas, starting with margarita, to toppings such as truffles and more. 
Opening hours: 12:00-23:00
An integral part of London is the Chinese restaurant scene, most of which are concentrated in Chinatown but not only.
׳Naturally Chinese׳ restaurant  has a gluten-free menu prepared and approved by the British Celiac Association, headed by chef Amy Muay Lee, since 2012.
In the menu you will be able to find among other things from gluten-free dumplings, spring rolls, spare ribs, traditional corn soup, roast duck, crispy pork belly, fried rice and more.
Delicious and recommended.
Address: 59-63 Brighton Rd
Hours of operation: Monday, Wednesday, Thursday and Friday: 12:30-15:00 and again from 17:30-22:00. Friday until 10:30 p.m. Tuesday: closed. Saturday: 12:00-22:30, Sunday 12:00-22:00.
Attractions near by: Hampton Court Park
Cotto Restaurant is an Italian restaurant which offers classic Italian dishes without the gluten, including pizzas, pastas and more. The restaurant is small, intimate and a bit old fashioned but it is also a charm and it is usually full.
The menu at Cotto is very simple, limited and basic but great in taste from all the opinions of the diners who visited it. 
You will be able to find in Cotto's menu handmade pasta, gnocchi, risotto, pizzas and more.
Address: 89 Westminster Bridge Rd, Bishop's.
Opening hours: Mon-Fri 12:00-14:15, 18:00-21:00. Saturday: 17:30-21:00, Sunday: closed.
Attractions near by: Waterloo, the War Museum
What I liked most about 'Pizza Express', the British pizza chain with 20 branches throughout London, is that on its website, without going round and round other pizzerias, it's written "Don't miss it because you are allergic to gluten. Most of our dishes are approved by the British Celiac Association.'
Indeed, most of the chain's menu is gluten-free (except for example the dough sticks in salads).
Among the dishes you will find in the chain's branches, apart from the pizzas, a starter of baked pietra with garlic, dough balls for dipping in sauces, chicken wings with herbs and lemon, tuna salad, penne bolognese pasta, chocolate and Amaretto parfait dessert, chocolate brownie, carrot cake and as mentioned no less than 14 Types of toppings on gluten-free pizza (and there is also a vegan one). 
Keep in mind that there are also deals that include pizza and other dishes at attractive prices at different times throughout the year and it's worth asking about them when ordering at the branch or through the delivery website.
Address: 4 Borough High St, London
Opening hours: daily: 11:30-23:00. on Friday and Saturday until 11:30 p.m.
Attractions near by: London Bridge
The charming restaurant Bella italia, also known as La italia, offers several gluten-free dishes on the menu. Among the dishes that can be requested in the gluten-free version on the menu, you will find not only Italian dishes but also dishes such as garlic and chili shrimp, chicken wings, caprese salad, gluten-free bruschetta, pasta with chicken, pasta carbonara, pasta with mushrooms, pasta bolognese, risotto, great pizzas , fish dishes, steak, hamburger, and more.
The restaurant has a variety of meal deals at varying times.
Address: 55-57 Queensway, Bayswater
Opening hours: daily 8:00-23:00. Friday and Saturday until 11:30 p.m.
Attractions near by: Hyde Park
19. Mcdonald's - pesto fingers
Officially, there is no gluten-free burger and fries at McDonald's London, according to McDonald's themselves. Too bad? Very much because the great advantage of McDonald's branches in London is the opening hours: from early in the morning (in some branches as early as five in the morning) to late (in some branches until half past one in the morning, in others until half past eleven).
On the website of McDonald's UK, it is stated that the chain does not commit to complete sterility from gluten, but at the same time it states that their McFlare ice cream and salad do not contain gluten.
So what? At the beginning of 2020, a dish called goujons was launched in the British branches of McDonald's, which are a kind of vegan and gluten-free pesto sticks that are fried in a separate chipper in most branches (not in all of them, you have to make sure in the specific branch where you will be)
In addition, McDonald's England states that their chips themselves do not contain gluten, but in some branches it is not fried separately and in some it is. You will have to find out yourself at the branch if the chips are fried separately. If so – it is safe for celiacs.
And what about burgers? In the British branches you will not find gluten-free buns and in some branches they will only sell you fried hamburgers placed on lettuce leaves. Very annoying.
Marks and Spencer is not only a large chain of department stores, but in most of its 20 branches, you can also find various food complexes to eat on the spot or packed for takeaway.
in the department stores you can find a wide variety of packaged and unpackaged gluten-free items including snacks, sandwiches, wraps, salads, muesli, pastries including wonderful breads (sold packaged in a hermetic bag) and more.
For those of you who live in England, at the chain's branches and website, you can also order gluten-free display cakes, from wedding cakes to sandwich trays for meetings and more.
Live in London or rent an apartment with a kitchen? In the chain's refrigerators, you can find gluten-free prepared meals, including pasta dishes, schnitzel, lasagna, and much more.
Hours of operation: daily 8:00-21:00 except Sunday 11:00-17:00. on Saturday until 20:00. Some branches may have different hours of operation starting at 9:00.
Attractions near by: The Queen's Palace
All dishes at the two Arpa & Co branches in London, are gluten-free which is amazing.
In these street food restaurants, you will find the same white cornmeal pita fillings that originate from Venezuela and you can eat them by the spoonful or their filling on a plate as a side dish for anything.
You can order an arepa filled with beef / chicken / avocado and beans / white meat, or a ketchup (amazing corn omelette) as well as excellent yucca chips and bowls with everything good.
Address: 58A De Beauvoir Cres, De Beauvoir Town and also 254 Paradise Row,
Hours of operation: daily 12:00-21:30. Monday from 8:30, Sunday 10:00-20:00, Sunday 10:00-22:00.
Attractions near by: The first branch is near the trendy Shoreditch neighborhood full of shops and a spacious park. The second branch is located near the museum gardens
Behind the two cafes / restaurants named Wild food cafe, stand Joel and Ista who have been working for many years to produce healthy, accessible, earth-friendly food that they say is "nourishing, empowering, fun and delicious". In other words: the entire menu is gluten-free and vegan.
As part of the same agenda, the two operate not only the cafes but also train people to prepare food based on what grows on the planet. The two places operated by the two have additional names: 'Neil's yard' and 'Islington'.
What's on the menu? Well, the menus of the two places are completely different. While at the Neil Yard branch you can find rich smoothies and salads but not much beyond that, at the Islington branch you can find hummus omelette, vegan carbonara, banana bread, quinoa pancakes), a vegan pizza that can also be had in a gluten-free version, a vegan cheese cake in the colors of the rainbow which is great for Instagram videos.
Address: 269 Upper St, Islington
Hours of operation: daily 12:00-23:30. On Saturday from 10:00, on Monday – closed, on Tuesday – only from 17:30. Sunday: 10:00-18:00.
Attractions near by: Estorick Collection art gallery
In recent years, 'Dishoom' has become a separate word for excellent Indian food. What started with one branch, is now a successful network of 8 branches. What is special about her? The design of the restaurants that look like a beautiful trendy diner and of course the great food.
Awareness of veganism and allergens in restaurants is high in regards to gluten and the chain has a gluten-free menu that is also available on the chain's website.
what's on the menu? Starting with breakfasts in various sizes, from vegan omelets to muesli and more.
For lunch you can enjoy traditional chicken tikka, lamb chops, lamb kebab, masala prawns, mango lassi, perfect Indian potatoes.
It is advisable and recommended to reserve seats in advance at one of the branches.
The one recommended by me is the Kensington branch.
Address: 4 Derry Street.
Hours of operation: daily 8:00-23:00. On Saturday and Sunday – from 9:00.
Attractions near by: Kensington Palace, Hyde Park
For years, Borough Market, one of London's most popular food markets, has been considered a pilgrimage site for all foodies everywhere. And as befits a stunning food market, you will also find several gluten-free options. The management of the market even increased and consolidated all gluten-free options on the market website.
The first option, a stand called Free from, belonging to Caroline Aharon, where she sells many types of gluten-free cakes, cookies and pastries. Some of them also without milk, some without eggs and without sugar.
The second recommended place in the market is "Padre" (Padre), a Mexican stand run by a guy named Nicolas who came from Mexico City and prepares corn flour tacos filled with a variety of delicious and gluten-free fillings at this stand.
Further in the market you can indulge in a Thai mango sticky rice dessert at a Thai stand called Khanom Krok
Address: 8 Southwark St
Hours of operation: daily 8:00-17:00. on Saturday from 10:00. Sunday: closed.
Attractions near by: London Bridge
Chef Celeb Gordon Ramsay's 'Don Street' restaurant is located right next to Regent Street, in the heart of the West End.
The 'Don Street' kitchen serves delicious brunches, dinners and of course, after work drinks as the British love so much.
People come to this restaurant mainly to see and show and enjoy the trendy terrace and bar and to have a meal at Ramsey's restaurant and the prices – accordingly. From time to time you can find great deals.
there is a gluten-free menu that includes, among other things: soups and salads to start, duck confit, roasted cod fish with potatoes, Burgers and fries, crème brûlée and blueberry sorbet, and various cuts of steak such as rib eye.
Address: 3-9 Heddon St, Mayfair
Hours of operation: daily 7:30-23:00. Saturday: 10:00-1:00, Sunday until midnight.
Attractions near by: Piccadilly Square
26. Gordon Ramsey street food pizza
Further to the recommendation of Gordon Ramsay's restaurant in the previous section, which is relatively expensive, so at the pizzeria that Ramsay opened several years ago and is called "Street Pizza", you can enjoy a deal of unlimited pizza for a decent price.
Address: Ground Floor, 10 Bread St
Hours of operation: Mon-Wed 11:30-23:00, Thurs-Fri 11:30-22:00, Sat 11:30-0:00, Sun 11:00-20:00
Attractions near by: the Thames River
The Vietnamese chain 'Pho Cafe' (Pho Cafe) with its 30 branches throughout London, prides itself on the fact that most of its menu is gluten-free. Stefan and Juliet, the owners of the chain, opened the first branch in 2005 after traveling in Vietnam and falling in love with the great cuisine.
Among the gluten-free dishes on the chain: Summer rolls (rice sheets with vegetables, £5.25), chicken wings, rolled beef dish with betel leaves, white meatballs in lemon grass, Vietnamese crepe, all pho soup dishes (between £7.5 and £8.5), dishes The rice with the meat (from £8.75), the noodle dishes (from £7.25), most of the desserts (except the truffle) and more.
Address of my favourite branch: Covent Garden at: 65a Long Acre, Covent Garden
Hours of operation: daily 11:30-23:00. Sunday until 10:00 p.m.
Attractions near by: Covent Garden
Senzala creperie started as a community cafe and creperie, while in 2013 it was rebranded and opened as a creperie with Brazilian touches. Senzala was the name of the slaves in Brazil in the previous centuries.
It is important to say: the crepes at the place contain gluten and are not suitable for celiacs. In contrast – the galette dishes are made from buckwheat-based flour and are suitable for celiacs. You can request both the savory dishes from the menu and the sweet ones based on the gluten-free batter.
So what are the options on the menu? Cheeses, tuna, a variety of vegetables, salmon and more, while in the sweets department: chocolate and banana, Nutella and more.
Address: 41-42 Coldharbour Ln, Brixton
Hours of operation: Tuesday-Saturday: 10:00-22:00, Saturday: 9:00-23:00, Sunday: 9:00-22:00, Monday: 11:00-17:00
Attractions near by: the shopping and entertainment area of the Brighton neighborhood